Dustin Harrison – American Hero and my Nextdoor Neighbor.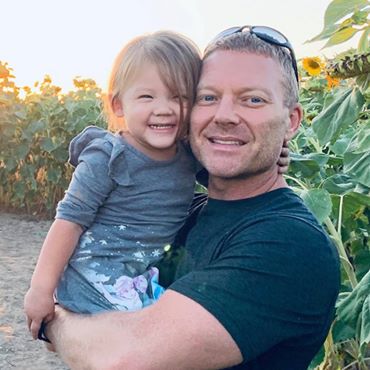 Listen to how you can help tell Dustin Harrison's Story
Please take a minute and add your story. If I get enough I will make something awesome and you can be a part of it. Or contact me at [email protected] and tell it to me. 

Who is Dustin Harrison to me? He was the kid that moved in nextdoor in 1980...
I have only spoken to him a few times since we grew up and I watched his life from afar on facebook. I saw him post about his new wife, his beautiful baby and other stuff but I never new what a TRUE AMERICAN HERO he was until now.
I truly can not believe how much this has affected me, the tears just keep running. I am in awe about who he is...
So last night I had a dream about him and it went like this. I flew down to Arizona to meet his wife and daughter and when I got to the airport he picked me up. Yes!!! HE picked me up and we talked about stuff that happened when we where kids. Like the time he drove his moms (Donna Harrison) car through the wall of the brand new garage his father had just built. How his mother came to our house terrified of what his father would do. ( As expected his father showed up with love in his heart to retrieve his wife and son. His father was an amazing man that I had a lot of respect for. He also passed away far to early.)
After I arrived at his home I meet his wife and as we spoke Dustin laid on the couch and as his friend and family came into the house and begun sharing there stories he just faded away. (I'm crying now just writing this.)
When I woke up I decided to write this article. Please, please, please, if you know Dustin Harrison comment on this post or even better send me an email [email protected] I will post it here. I am also interested in doing podcast via phone or in person, shooting videos or anything else you want to help tell this American Hero's Story.
And Dustin, I can't wait to see you in heaven and hear all about your amazing life first hand. Thank you for your service to this country and I love you brother...
I have not met his amazing wife Hope Harrison and most beautiful daughter Heaven Harrison yet, but I hope to.
Please Donate:
Click on this link to help them in their time of need and beyond. https://www.gofundme.com/f/during-harrison-family
'He kind of led a secret life': Heroic pilot's family shares his sacrifice to stop terrorism
Auburn High School graduate Dustin Harrison had the type of dangerous, adventurous, top-secret job that Tom Cruise might play in a movie. His job as an expert civilian contract pilot for the U.S. Dept. of Defense didn't allow him to share details of the anti-terror spy missions he flew around the world with anyone.
Dustin Harrison: A Tribute to the Slain Contract Pilot
Dustin Harrison, who was named by family members as one of the Americans who were murdered in a terrorist attack on a base in Kenya, was a contract pilot for the U.S. military remembered as a hero and a "patriot."
Auburn graduate among 3 Americans killed by rebels in Kenya
Dustin Harrison was seven days away from calling it quits as a private contractor, piloting a twin-engine Beechcraft King Air 350 with cameras and sensors for aerial survey.
Then, on Sunday, al-Shabab Islamist extremists overran a key counterterror base in Kenya used by American forces. Harrison, 47, a 1990 Auburn High School graduate, was killed with two other Americans.
Arizona man among victims killed in terrorist attack on military base in Kenya
PHOENIX (3TV/CBS 5)-- An Arizona woman says her husband was one of the three Americans who were killed Sunday in a terror attack at a military base in Kenya.
McSally Announces 2020 State of the Union Guest: Hope Harrison
U.S. SENATE—U.S. Senator Martha McSally (R-AZ) announced today that Hope Harrison of Tucson will be her guest at the president's third State of the Union tomorrow, February 4th.
Arizona senators brought guests from Tucson to Trump's State of the Union
TUCSON - Arizona's senators were at President Trump's State of the Union on Tuesday night and both Martha McSally and Kyrsten Sinema brought guests from right here in Tucson.
Pilot from Tucson among those killed in Kenya attack
By JOHN VANDIVER | STARS AND STRIPES
STUTTGART, Germany — An Arizona man contracted to fly aircraft for the U.S. military was among those killed Sunday when Somali militants attacked a base in Kenya, a local television station reported.
Washington native killed in attack at Kenya military base
Author: Brit Moorer (KING5)
Dustin Harrison, who grew up in Auburn and Federal Way, was killed when Al-Shabab extremists overran a military base used by U.S. counter-terror forces.
Pilot from Washington among Americans killed in terror attack at Kenya military base
A contract pilot and Washington native was one of the Americans killed in an attack by Al-Shabab extremists on a Kenya military base on Jan. 5.
Read stories or add your own about this amazing Husband, Father, Family and Friend to us all.
About Post Author